Author: Byron Csizmadia
Aurora is planning to enter the US market in the very near future. This message was delivered loud and clear by CEO Terry Booth, in the most recent conference call with investors and echoed by CCO Cam Battley in several post-ER video interviews as well as Executive Chairman Michael Singer who said "… we will have a significant footprint in the U.S. in the coming quarters." What they aren't saying is how they plan to accomplish this.
While Aurora's tight lipped tactics may be good from a strategic point of view, it opens the door for investor speculation as to what their plans are. Surprisingly, discussion groups and Twitter are quiet on this subject.
In this article I will look at what we do know about Aurora and take a logical, fact-based approach, examining some of its existing partnerships, resources and alliances and how they fit into what I believe is their overall entry strategy. I will also suggest companies I believe are logical partners to work with Aurora and achieving their entry strategy.
So, how will they do it?
Let's take a look at some of the companies and partnerships already in place that might shed some light on the answer to this question.
Australis Capital Corp.
Aurora has stated over and over again that Australis Capital is their beachhead into the US cannabis market so it makes sense to assume they might be the path Aurora plans to use. However, there are still regulations in place that prevent this from happening. So unless the USA moves forward with Federal legalization in 2020 and/or the TMX changes its regulations regarding Canadian companies owning assets in Cannabis related companies in the USA, Aurora will not be able to exercise its back-in right and use Australis Capital as a potential entry into the US market. At least not at this point.
Nelson Peltz
On March 13, 2019 Aurora announced the appointment of Nelson Peltz as a strategic advisor. Nelson Peltz was brought on "to explore potential partnerships that would be the optimal strategic fit for successful entry into each of Aurora's contemplated market segments." While it is not necessary to discuss in detail his extensive resume, there are two companies that should be noted, Proctor & Gamble a global multinational operating in 5 market segments where he is currently a director and Mondelez International, one of the world's largest snack companies, where he was previously a director.
More on Nelson Peltz and those companies later.
HempCo.
One month after bringing Nelson Peltz on board Aurora announced their intention to acquire the remaining shares of HempCo, making it a wholly owned subsidiary of Aurora. Whether this deal was already in the works or it was advised by Nelson Peltz, HempCo could play a significant part in Aurora's strategy to enter the US CBD/Hemp market.
HempCo has established brands, PLANET HEMP™ and PRAISE, as well as hemp-based foods and nutritional supplements for people and animals. They have international distribution channels through Amazon, Well.ca and Metro Inc. and are carried in retail outlets across Canada. They are a recognized brand and a turnkey operation capable of supplying various supplement and food products as soon as they are needed.
Radient Techologies Inc.
On November 6, 2017, Aurora entered into a Master Services Agreement (MSA) with Radient Technologies, a company with a proprietary process for extracting CBD and THC from Hemp and Cannabis biomass. At the time, Aurora made an investment of approximately $14.0 million through a combination of convertible debentures, private placements and warrant exercises. As of June 30, 2019, Aurora held a stake in Radient of approximately 13.90% of the issued and outstanding common shares. The MSA has an Investor Rights Agreement which allows Aurora the option to increase ownership in Radient up to 19.99%
Until recently there was no proof that Radient could run its extraction process at a commercial scale but on May 13, 2019, in a joint press release, the two companies announced that Aurora had taken delivery of its first commercial batch of finished cannabis derivatives, proof beyond a doubt that the technology worked at commercial scale. What's more, not only did it work, but Radient was able to process the commercial scale batches within a 24 hour period, something no other extraction company can do.
After upgrading its existing facility, Edmonton I, to process only Cannabis biomass, the company began construction on Edmonton II which will be dedicated to CBD extraction from Hemp biomass only. The facility, which is on track to be ready by the end of calendar year 2019 will have an annual throughput of approximately 3,200,000 kg of Hemp biomass. Aurora CEO Terry Booth made this statement about their future working with Radient, "Cannabidiol (CBD) derived from hemp requires the level of throughput that Radient's technology and state-of-the-art second facility will provide to existing and future medical, wellness and consumer markets. We look forward to working with Denis and the Radient team to further our global position in the derivative markets."
UFC Partnership
Aurora and UFC have partnered to conduct research on UFC athletes and the effectiveness of CBD as a treatment for pain and recovery in these high performance athletes. UFC is a highly visible sport with more than 300 million fans worldwide and while it may not have the same local audience as the NBA, NFL or MLB, one thing cannot be underscored enough, UFC athletes experience extreme pain and require quick recovery times.
Roar Sports CBD infused products will be the official brand used by UFC athletes. Considerable research and testing will be conducted to determine the best dose and delivery method for the UFC athletes to use. The end result will be CBD infused products that are backed by science and endorsed by UFC athletes. This is something the consumer market can have confidence in. Aurora CEO Terry Booth had this to say at a press conference hosted by UFC and Aurora Cannabis, "The brand-building and product development are all part of our move into the U.S., and in collaboration with UFC, and we intend to play a major role in that market."
Connecting the Dots
In one of his most recent video interviews, Cam Battley emphasizes how Nelson Peltz has been instrumental in providing the guidance they need to take Aurora to the next level. When discussing their entry strategy into the USA he mentions the UFC partnership and states that they are looking at making multiple entries into the US market, "…optimally what we would like to do is enter into partnerships in more than one vertical." During the same interview he says that they are also looking at future opportunities beyond CBD, but the current opportunity open to them is through hemp derived CBD. Terry Booth, in his letter to shareholders in their 2019 annual report makes this statement referring to Aurora's relationship with Nelson Peltz: "Together we are approaching our US market entry in a thoughtful and calculated manner and are leveraging Nelson's expertise and relationships to further advance our agenda."
So far we have looked at HempCo, an established company with existing Hemp food products. Radient Technologies which will have an extraction system dedicated to extracting CBD from hemp biomass, ready to go into production by the end of 2019. And we have Nelson Peltz, the liaison who brings Aurora together with the two companies mentioned earlier, Procter & Gamble and Mondelez International, both are vertically integrated and both cover different market segments that will undeniably be offering an array of CBD and Hemp infused products from their competitors.
Proctor & Gamble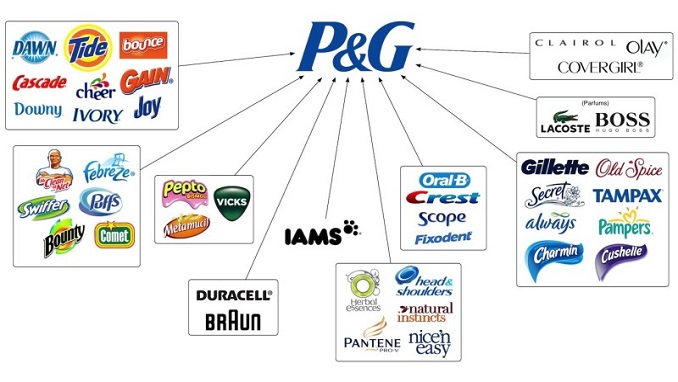 Nelson Peltz is currently a director with Proctor & Gamble and the fact that he was interviewed alongside the Procter & Gamble CEO David S. Taylor at Delivering Alpha suggests he carries some influence in the company. P&G operate in 5 major market segments, four of which could offer CBD and hemp oil infused products.
Health Care, which is P&G's smallest business segment is a perfect fit for the UFC endorsed Roar Sports brand. This would be an opportunity for P&G to grow this market segment. Baby, Feminine and Family Care is their second largest segment followed by Beauty and Grooming. P&G product offerings in each of these segments could be expanded through CBD and hemp oil infused creams, lotions, soaps, shampoos, anti-aging serums, and the list goes on.
Currently, Hemp oil and CBD infused products are gaining popularity in each of these segments. Aurora is well positioned in terms of its capacity and capability to provide P&G with products that can help them take advantage of this trend. Nelson Peltz is well positioned to introduce Aurora to P&G and explore the possibilities.
Mondelez International
As a dedicated snack company, Mondelez International is a perfect fit for Aurora's line of hemp based food products. Mondelez boasts iconic brands such as Cadbury, Oreo, BelVida, Trident, Tang, Chips Ahoy, Dentyne, Toblerone and Ritz, to name just a few. While not nearly as well known, Planet Hemp products are already available in retail outlets all across Canada and online.
Snack bars, biscuits and CBD infused powders for shakes are some of the products Aurora brings to the table. CBD and Hemp enhanced versions of their existing brands is also a logical step Mondelez could take towards capitalizing on the growing demand for CBD and Hemp infused products.

Conclusion
If you could pick from Nelson Peltz's bag of goodies, what companies would you pick? Strategic alliances with Proctor & Gamble and Mondelez International would provide Aurora with instant distribution channels and consequently, the significant footprint in the US that Exec. Chairman Michael Singer suggests they will have in 2020.
Is Aurora a company with the size and ability to work with two multinationals like P&G and Mondelez? One has to assume that a business man such as Nelson Peltz would not have agreed to work with Aurora if this wasn't something he himself could see in the company. Not only would these companies give Aurora an established distribution network in the USA, they could open the world market to them when the time was right.
I personally don't believe we will see the much anticipated partnership of the sort other leading LP's have entered into, instead we will see Aurora signing supply agreements with both these vertically integrated multinationals, without giving up any ownership, something the management team at Aurora has stated many times they want to avoid. And why should they? A supply agreement will be a win/win for all companies involved. Aurora will supply the raw materials in the form of Hemp derived CBD, hemp seeds and hemp oil while Proctor and Gamble and Mondelez will do what they are already doing, bringing iconic brands to the market.
Many Canadian LP's and retailers are looking to Cannabis 2.0 and 2020 to be their breakout year. Although the introduction of edibles and infused products and vape products will definitely change the consumer market, Canada remains a relatively small market and the competition will be high. There is no doubt Aurora plans to be in the Canadian market and continue to compete, but as always, they march to the beat of a different drummer and while the competition is heating up in Canada, they will be looking to the south in hopes of catching a much bigger fish.
How they will do this is still open to speculation. I have presented what I believe to be a logical strategy, however, regardless how they do it, one thing can be certain, with Nelson Peltz in their court they will do it in a very big way.

About the Author
Byron Csizmadia first became interested in the stock market in 1981 when he read an article about an IPO for a company called Ballard in a complementary Financial Post newspaper he found outside his dorm room at UBC. From that point he began to study the stock market and real estate investing. These days, after spending most of his career teaching business management courses and managing in private collages, he is living in the Philippines, working part time as a guest lecturer, teaching business management and English. The rest of his time is spent researching the Cannabis Industry and investing in large and small cap companies he sees as promising. He also has positions in several companies in the Philippines through the Philippine stock exchange. He enjoys writing about the research he does on the companies that interest him and sharing his findings in a number of discussion groups
Full Disclosure: I have long positions on Aurora Cannabis, Radient Technologies and Australis Capital. I wrote this article myself, and it expresses my own opinions. I am not receiving compensation for it. I have no business relationship other than shareholder with any company whose stock is mentioned in this article.


Processing…
Success! You're on the list.
Whoops! There was an error and we couldn't process your subscription. Please reload the page and try again.